Title:
One More Night
Series:
One Night #2
Author:
A.M. Willard
Genre:
Romance/Adult
Maturity Rating:
17+
*WARNING*: VERY GRAPHIC SCENES
My Quickie Synopsis:
Angela is finally back home and she's ready to figure out where things stand with her husband. But Christopher isn't being as receptive as she would have hoped, and his secretive behavior isn't helping matters. As Logan's determination to see her again increases, Angela quickly finds herself at a cross-roads. Is her marriage worth saving, or is her future with Logan?
Enjoyment Factor:
As a quick recap, I did a review of the first novella for this series
here
. I've opted to not do an overall or technical rating until the series is complete because of the length of these novellas. On to the review!
I'm still not overly impressed with the editing, but it is a lot better! My main concern is the lack of semicolons! Don't be afraid of them; they are your friend! See what I did there? I'm a semicolon pimp, and possibly a little neurotic. I'll give an example because the teacher in me demands it. I'm pulling it from the first page, so you don't have to worry that I'm spoiling anything.
"I can't think straight, I thought I would never see him again after he left my room last night."
There are a few different ways that the above comma splice can be fixed. Obviously, as a semicolon pimp, my number one fix would simply be to change the comma.
"I can't think straight; I thought I would never see him again..."
The next fix would be to use a subordinate conjunction. The semicolon actually implies it, but sometimes it's better to show the relationship between the two clauses.
"I can't think straight because I thought I would never see him again..."
Finally, you could separate the two independent clauses. I would only use this fix if the two clauses weren't related at all. That isn't the case here, but I'll show it for the sake of the example.
"I can't think straight. I thought I would never see him again..."
But enough about that! On to the good!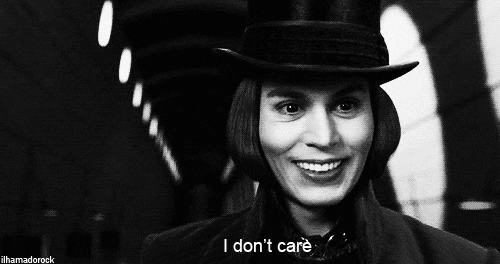 How I wanted Angela to respond at the end!
The writing flowed much better this time around. Instead of spending time explaining what characters were about to do, we got right into the action. And there was quite some steamy action there! The dialogue felt a bit more natural, and it was easier to focus on the story as it developed. I'm rooting for Angela; I'm not sure how I'd react in such a situation!
The ending made me laugh a little though; the word "examine" in the last sentence felt a little clinical and cold. It would have worked if I thought that Angela was truly that detached from it all, but considering the fact that she responded, I think a warmer phrasing could have been used. I know that's vague as hell, but I'm trying to avoid giving anything away; buy
One More Night
so you can see what I mean!
My Icing on Top:
One More Night
is an example of why I generally enjoy reading from new authors, and I do mean that sincerely. When it comes to a dedicated author, you get to see incredible development sometimes. There is a great deal of improvement between the first novella of the series and the second. Could it still use work? Absolutely. However, I'm happy to see growth already! It's my hope that this pace of refinement continues into the third novella and onward. I look forward to the conclusion of the
One Night
series; let's hope Angela gets what she wants!
Check out my informal review on
Goodreads
!
Happy reading!
-K